Monica Robins, WKYC-TV 6:37 p.m. EDT March 26, 2015
CLEVELAND, Ohio — Three men who spent nearly 20 years behind bars for a murder in East Cleveland will now get a new trial.
Cuyahoga County Common Pleas Judge Nancy Russo ordered a new trial for Eugene Johnson, Derrick Wheatt and Laurese Glover after giving scathing statements regarding the work of former Cuyahoga County prosecutor Carmen Marino.
The Ohio Innocence Project got involved in the case, and later it was revealed that the prosecution withheld evidence.
The case surrounds the 1995 murder of Clifton Hudson Jr. who was shot and killed on Feb. 10 on Strathmore Avenue in East Cleveland.
The defendants admitted they were near the scene and witnessed the murder, but all maintained their innocence. An eyewitness testified that the clothing one of the defendants was wearing matched the clothing of the shooter.
A letter from Prosecutor Marino addressed to Sgt. Dunn of the East Cleveland Police Department ordered the department to conceal all police reports and other information related to the homicide investigation, which resulted in these convictions.
The letter was dated January 24, 1998.
The court found that the defendants' constitutional rights were violated and that there was prosecutorial misconduct by Carmen Marino.
"Carmen Marino is infamous in Cuyahoga County for his vindictive, unprofessional and outrageous misconduct in criminal cases. The human toll that has resulted from his tenure in our county's office of the prosecutor is incalculable and never ending, it seems injustice was his hallmark," Judge Russo said.
She added, "Carmen Marino was the architect of the destruction of a fair trial and he cared more about getting a conviction at any cost, more than he cared about his oath to seek justice."
The defendants were given a $50,000 bond and will receive monitoring devices. The next hearing is scheduled for April 14 at 9 a.m.
Judge grants new trial for 3 imprisoned for murder
Johnnie Lee Savory believes DNA will prove he's innocent
PEORIA, Illinois (August 6, 2013) – Peoria County judge ordered DNA testing in the case of Johnnie Lee Savory, a CWC client who languished behind bars for more than two-thirds of his life—from age 14 to age 44—before he was released on parole in 2006. In ordering the testing, Judge Stephen A. Kouri wrote that it "has the potential to produce new, materially relevant evidence" in the case, adding: "This is an opportunity the legal system . . . has to utilize today's technologies to make sure justice was and/or is done."
Savory has sought DNA testing since 1998, but Peoria County prosecutors opposed it and the courts denied it on the ground that the requested testing could not yield a result relevant to his claim of actual innocence. Now, however, the technology has advanced to a point where it could be used on previously untestable evidence that has the potential to yield, to quote the CWC motion, "practically irrefutable evidence of Savory's innocence."
Savory was twice convicted of the murders of siblings James Robinson Jr., 14, and Connie Cooper, 19, who were found stabbed to death in their Peoria home on January 18, 1977. The first conviction rested almost entirely on an alleged confession that the Illinois Appellate Court threw out in 1980 on the ground that the confession had been involuntary.
In the face of the Appellate Court's holding, then-Peoria County State's Attorney John Barra was quoted by the Peoria Journal Star as saying that without the confession "there is no substantial evidence to tie Savory to the crime or the scene of the crime [and] I don't know how it would be possible to try him without it."
Barra soon changed his mind, however, deciding to try the case again based on statements attributed to Savory by three of his acquaintances—siblings Ella, Frankie, and Tina Ivy. The Ivys claimed that Savory had made statements to them indicating that he had committed the murders. The retrial was moved to Lake County, where Savory was convicted in 1981. Since then, the Ivy siblings have on various occasions recanted their testimony. Moreover, at a hearing following the second trial, one of the original prosecutors—Assistant State's Attorney Joseph Gibson—testified that prosecutors had chosen not to present the Ivys' testimony in 1977 because it was "too shaky."
The only evidence other than the illegally obtained confession and the Ivys' testimony was inconclusive. It included the alleged murder weapon—a knife found in Savory's possession bearing then-untestable trace amounts of blood; a pair of bloodstained pants several sizes too large for Savory seized from his home; and several hairs found at the murder scene said to microscopically resemble Savory's hair.
In 1998, shortly after the Illinois General Assembly enacted a law giving convicted defendants the right to test physical evidence relevant to claims of actual innocence, Savory's then-lawyers filed a motion for DNA testing of the bloodstained pants. The blood was of a type shared by Savory, the victims, and, importantly, Savory's father, Y.T. Savory, who had suffered an injury consistent with the positioning of the blood and who had testified he used the knife to undo the stitches.
The then-attorneys attempted to supplement the motion with a request to test fingernail scrapings from Connie Cooper. The scrapings previously had been thought to be of no evidentiary value. That request was rejected by the Peoria County Circuit Court, and the testing of the pants ultimately was denied by the Illinois Supreme Court, which held that the bloodstain was only "a minor part of the State's evidence."
Since then, however, advances in DNA technology have made testing of the knife, the hairs, and the fingernail scrapings possible, according to the CWC motion, which contends that, if the testing of those items revealed a common DNA profile that was not Savory's, the "redundant hits" would be "practically irrefutable evidence of Savory's innocence and of another man's guilt."
Two friend-of-the-court briefs were filed in support of the CWC motion—one prepared by lawyers from the law firm of Sidley Austin on behalf of leading Illinois lawyers—including former Governor James R. Thompson, former U.S. Senator Adlai E. Stevenson III, and former U.S. Attorneys Thomas P. Sullivan and Dan K. Webb—and one prepared by lawyers from the law firm of Baker & McKenzie on behalf of men who have been exonerated by DNA testing in Illinois.
KIM LONG
Late at night on October 5, 2003 or during the early morning of October 6, 2003, Oswaldo "Ozzy" Conde was brutally murdered in the house he shared with his girlfriend, Kimberly "Kim" Long. Although she passed a polygraph examination administered by law enforcement displaying a high degree of honesty, and despite viable alternate suspects, Kim would soon find herself convicted of Ozzy's murder. On October 5, 2003, Kim spent the day bar-hopping with Ozzy and their friend, Jeff Dills, in Corona, California. The group started at a bar called Chuck Wagon around 10:00 a.m. or 11:00 a.m., continued to Tom's Farms around 12:00 p.m., then on to Sportsman around 2:00 p.m., and ended at a bar called Maverick's in the evening. At Maverick's, it was clear Kim was drunk. The group decided to leave and went to Kim's house at approximately 11:00 p.m. Kim and Ozzy got into a dispute and Kim decided to leave with Jeff. Kim and Jeff went to Jeff's home, returning to her home at approximately 2:00 a.m. Kim was still drunk and stumbling when she tried to enter the house. Inside, Kim saw Ozzy lying motionless on the couch with his head bashed in. He had been hit 3 to 8 times in a precise area of his head with a long object. Ozzy appeared to have been dead for some time. Lividity – the pooling of blood in the extremities – was present on the back of Ozzy's arms as well as on the left side of his face. Lividity does not tend to set in for over an hour. Rigidity – the stiffening of muscles after death – had also started in Ozzy's arms which can be detected usually starting a ½ hour to two hours after death. Frantic, Kim called 911. Police responded immediately. When officers arrived, they noticed blood on every wall of the living room in a 360 degree radius, yet no blood was found on Kim or her clothing. Neither were any of the drains inside or outside the house wet, indicating there was no cleanup. At trial, the prosecution argued that Kim committed the murder and disposed of her bloody clothing before calling 911. The jury believed him. After all, given the forensics, it is undisputed that the killer would have had Ozzy's blood on them. Kim became a suspect when Jeff told officers he dropped Kim off at home around 1:30 a.m., not 2:00 a.m. as Kim claimed. From that point on, officers focused on Kim as a suspect even though there were other viable suspects including Ozzy's ex-girlfriend against whom Ozzy had a restraining order at the time of his death. Jeff died shortly thereafter in a motorcycle accident and his story about dropping Kim off at 1:30 a.m. could not be questioned further. Based on the fact Kim and Ozzy argued that night and that the jury believed Kim was home at 1:30 a.m., Kim was convicted. So surprised was the trial judge with the verdict that he stated he would have acquitted Kim. After all, Kim had a prior trial in which nine for the twelve jurors had voted "not guilty." After her second trial, the two alternate jurors came forward and told the trial judge they would have acquitted Kim and that something must have gone terribly wrong during jury deliberations. Indeed, the evidence was so thin against Kim that the trial judge let her remain out on bail pending her appeal, which is very rare. She was eventually taken into custody in 2009 and remains there while the California Innocence Project uncovers further evidence of her innocence. The California Innocence Project has verified that Kim did not change her clothing, a fact the prosecutor knew at the time he argued that she did. Neither the trial judge nor jury heard this fact. Further, evidence now suggests that Jeff was not truthful about the time he dropped Kim off. The California Innocence Project has learned that Jeff believed he was a suspect in the murder, thus giving him a motive to lie. Finally, relevant biological evidence from the crime scene was never tested, including a cigarette butt likely left behind by the killer, which is currently being tested.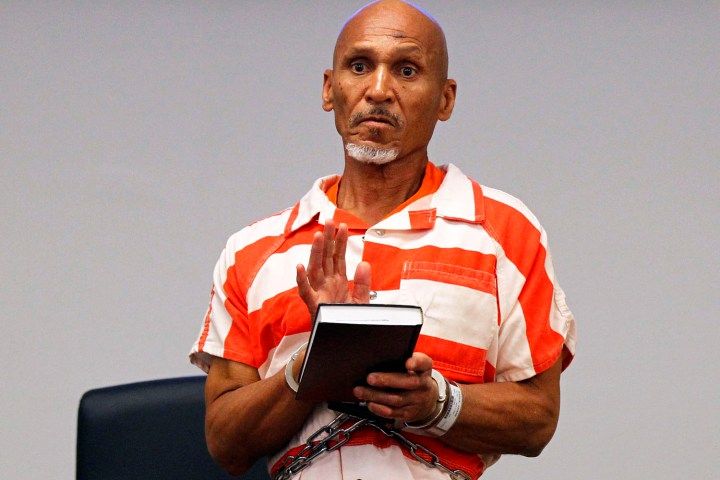 JUDGES FREE 70-YEAR-OLD WRONGFULLY CONVICTED OF MURDER 40 YEARS AGO